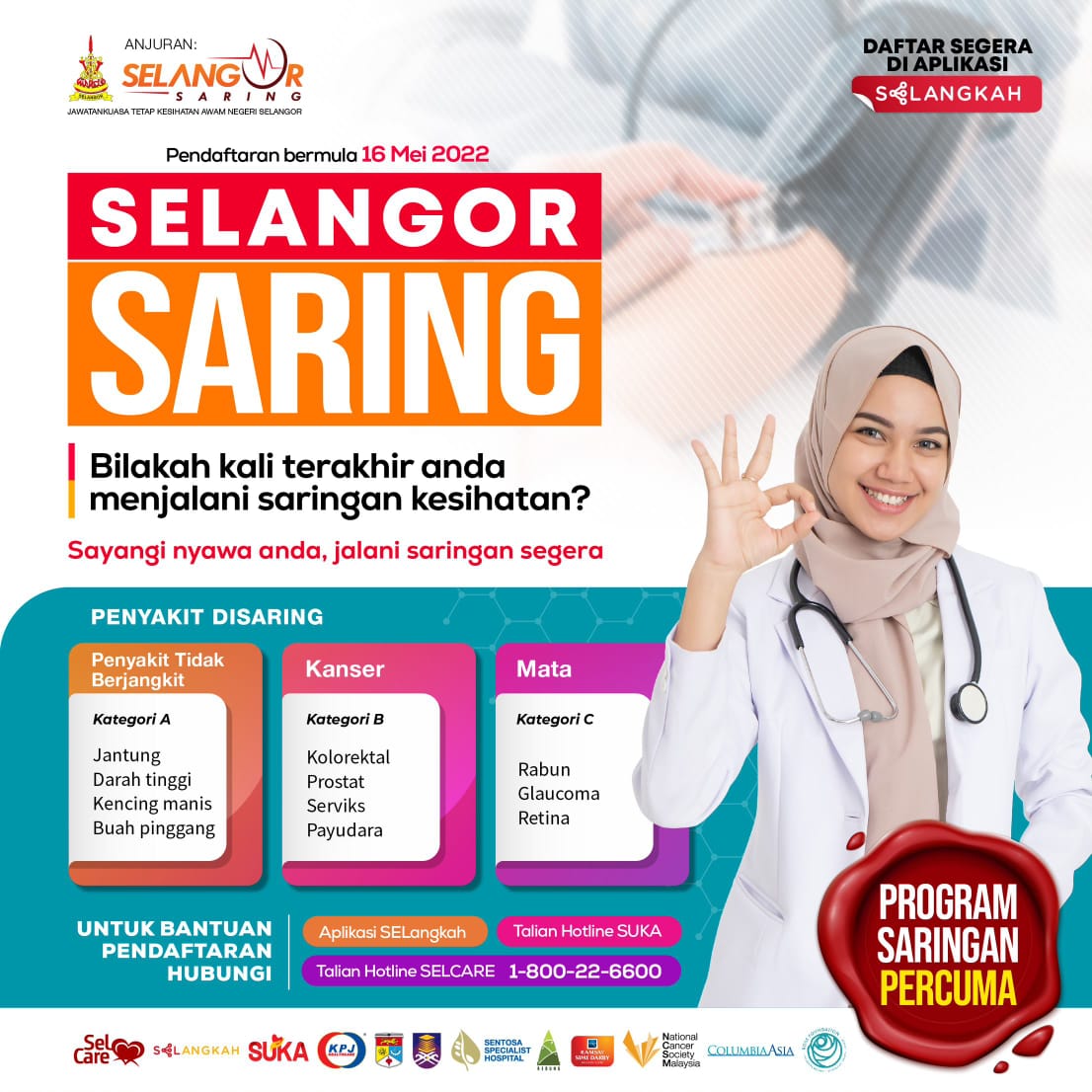 Selangor Saring is a health screening program implemented to enable early detection of non-communicable diseases, cancer and selected eye diseases among Selangor residents.
---
Register through the SELANGKAH APP by clicking the Selangor Saring button.
Watch the tutorial on how to register here: YOUTUBE PLAYLIST
Failed your eKYC identification process?
If you fail to pass the identity verification process, you can try one of the resolution methods:

· Try again
· Continue without verification (perform manual verification on screening day)
· Register through the official website of Selangor Saring: selangorsaring.selangkah.my

IMPORTANT REMINDER!
Slots are limited. Each applicant who registers will receive an initial screening voucher during their registration process.
If your identity verification process fails, you can undergo manual verification by bringing your MyKad to the registration counter on the day of screening.
Take a "screenshot" of the barcode given, get it ready before attending to the screening location.
Android users are advised to update their SELANGKAH APP on Google Play Store for a smoother user experience and service.
---
Target Audience
This program is open to all residents in the State of Selangor consisting of all ages, possess targeted disease risk factors (such as family history, obesity, lifestyle, etc.) as well as those who have not obtained any diagnosis from any health facility.
Schedule of Date & Location
District
Date
Area
Location
Kuala Selangor
22 May
Ijok
SJK (C) Yuk Chih, Bestari Jaya, Selangor
5 June
Sekinchan
SRJKC Yoke Kuan, Jalan Gereja
12 June
Sungai Burong & Permatang
Dewan Orang Ramai Kg Seri Tiram Jaya
Sabak
28 May
Sabak
Grand Sabak Hotel
28 May
Sungai Panjang
Dewan Simpang 5, Sungai Besar
28 May
SG Air Tawar
Grand Sabak Hotel
Hulu Selangor
3 Sept
Kuala Kubu Bharu
23 July
Batang Kali
4 June
Hulu Bernam
Dewan Serbaguna Bernam Jaya, Jalan Kemudi 2B
Kuala Langat
11 June
Sijangkang
Dewan Wawasan Batu 9, Kampung Medan, Selangor
12 June
Tanjung Sepat
19 June
Banting & Morib
Sepang
18 June
Dengkil
18 June
Jeram & Bukit Melawati
19
June
Sg Pelek
Gelanggang Bola Keranjang Bersebelahan SJKC Tche Min
Hulu Langat
25 June
Bukit Antarabangsa & Lembah Jaya
25 June
Teratai & Pandan Indah
26 June
Dusun Tua
26 June
Semenyih
Dewan Komuniti Taman Pelangi, Semenyih
2 July
Sungai Ramal
2 July
Balakong
Gelanggang Bola Keranjang Batu 11 Cheras
3 July
Kajang
Gombak
16 July
Kuang
Dewan Kg Permata
16 July
Rawang
17 July
Taman Templer
17 July
Hulu Klang
31 July
Sungai Tua & Gombak Setia
Klang
23 July
Pelabuhan Klang & Pandamaran
Dewan Kompleks Sukan Pandamaran
24 July
Meru & Sementa
24 July
Selat Kelang
6 Aug
Sentosa
6 Aug
Kota Kemuning
7 Aug
Sungai Kandis
7 Aug
Bandar Baru Klang
Klang Parade Shopping Mall
Petaling
13 Aug
Paya Jaras
13 Aug
Kota Damansara
14 Aug
Kota Anggerik
14 Aug
Batu Tiga
20 Aug
Bukit Lanjan
20 Aug
Bandar Utama
21 Aug
Kampung Tunku
21 Aug
Bukit Gasing
27 Aug
Taman Medan
27 Aug
Seri Setia
28 Aug
Kinrara
28 Aug
Subang Jaya
3 Sept
Seri Kembangan
4 Sept
Seri Serdang
---
Types of Screening Offered
Physical Examination
Blood Test
Urine Test
Eye Screening
Cervical Swab
iFOBT Test
Breast Cancer
Types of Diseases being Screened
Category A: Non-Communicable Diseases

Cardiovascular
High blood pressure
Diabetes
Chronic Kidney Disease
Category B: Cancer
Colorectal

Prostate

Cervix

Breast
Category C: Eyes
Myopic
Glaucoma
Retina
Any questions?
Any questions regarding program registration can be submitted to:
♦️ Selcare Hotline: 1-800-22-6600
♦️ Selangkah Customer Support: TELEGRAM
♦️ SUKA Hotline: SUKA
Frequently Asked Questions
Q: How do I apply for the SELANGOR SARING program?
Applications must be made through the Selangkah application only.
Q: Why is the SELANGOR SARING program being encouraged?
A: The SELANGOR SARING program is encouraged and was established to provide systematic health screening methods and channels for Selangor residents.
Q: Is the SELANGOR SARING program free or payable?
The SELANGOR SARING program is free according to the eligibility requirements that have been set.
Q: How do I get a SELANGOR SARING coupon?
Everyone must register in the SELANGKAH application in the SELANGOR SARING section. Coupons will be given in the Selangkah application.
Q: How many SELANGOR SARING coupons will be given for each area?
The number of SELANGOR SARING coupons given depends on the selected area starting from 500 coupons up to 1000 coupons per area.
Q: Why do I need to answer the risk assessment question when registering to get the SELANGOR SARING coupon?
To determine if the applicant is eligible for the type of screening in the SELANGOR SARING program. Each applicant will receive a separate screening coupon according to the risk assessment answered.
Q: How do participants get the results of the SELANGOR SARING screening test?
Participants can obtain the results of the SELANGOR SARING screening test in the SELANGKAH application in the SELANGOR SARING section.
Q: When will the results of the SELANGOR SARING screening test for participants be available?
The results of the participants' SELANGOR SARING screening test will be available after 5 to 7 days after the end of the SELANGOR SARING program.
Q: What documents do participants need to bring during the SELANGOR SARING program day?
Participants need to bring an identity card for verification purposes and also a record of SELANGOR SARING coupons in the SELANGKAH application.
Q: Does the SELANGOR SARING program only involve citizens?
The SELANGOR SARING program only involves citizens.
Q: Can participants go to a different SELANGOR SARING program location than the one registered?
Participants are only allowed to go to the registered SELANGOR SARING program location. They are not at all allowed to go to a place different from the one registered. If they want to change to another date or location, they can press the "Change Session/Program Date" link on the same page.
Q: Why can't I select a program location close to my residence?
The DUN of your choice does not provide the screening you are eligible to undergo. Our system will only list the DUN locations that provide the screening.
Q: Who is eligible to participate in the SELANGOR SARING program?
This program is open to all residents in the State of Selangor who consist of all ages, have target disease risk factors (such as family history, obesity, lifestyle, etc.) as well as those who have not yet obtained any diagnosis from any health facility.
Q: Will I undergo all the screening tests for the stated diseases?
The eligibility of an individual to undergo a screening test for a specified disease is determined based on the assessment of risk factors through an initial screening form that has been completed by the user. If you are assessed to have risk factors for a stated disease, you will receive an offer of a screening test for that disease.